Videos undoubtedly have become an indispensable part of everyday life. No matter what the theme or concept is, color is a significant element in videos. You can improve the overall color with professional video color correction tools. 
W
hat Is Color Correction
Color correction is the process used to balance the colors throughout the video. It is used for making all the colors appear in harmony, with the proper temperature, matching the scene in the video lens with the appearance when viewed from the human eye.  
How to 
Color Correct
ion
with
 MiniTool MovieMaker
Released by MiniTool, MiniTool MovieMaker is a free yet professional video editor without watermarks, which comes with a color correction feature. Even if you have little experience with video color correction, this software can help you correct the color of your videos with no efforts. 
Step 1. Launch MiniTool Movie Maker on your PC. 
Step 2. Select Full-Feature Mode to enter the main interface and click Import Media Files to import your video.  
Step 3. Drag and drop the video to the timeline or click + to add it to the timeline. 
Step 4. Double click the target video on the timeline and the editing window will pop up. To make color correction, just left-click the indicator and move it to the left or right along the slider. When releasing the mouse button, the respective value will be set.  
Contrast

: Contrast is defined as the separation between the darkest and brightest areas of the image. 

 

Saturation

: 

Saturation

 represents the amount of gray in proportion to the hue. 

In

 a basic sense, it refers to how colorful 

one

 color is.

 

Brightness

: 

Brightness deals with

 the overall lightness or darkness of your video 

image. 

 

3D LUT

: 

3D LUT

 

offers

 some excellent 

color sets, such as 

007 series, Batman, Harry Po

t

ter, 

Game of Thrones

,

 

etc.

 
Step 5. Preview the video. If you are happy with the result, just click OK to save the changes to your video and back to the main interface. 
Step 6. Hit the Export button to enter the export window, where you can give a name to your video, choose the output format, select the store destination, and select the video resolution. Then tap on the Export button again.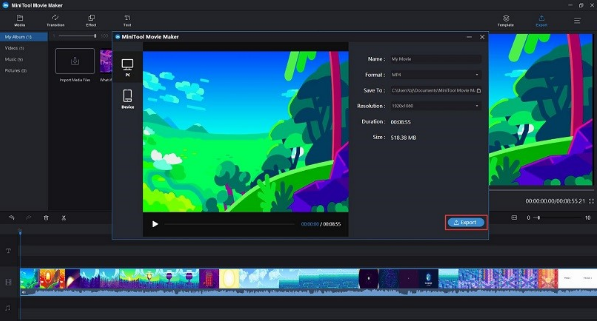 Other Color Correction Software 
#Filmora Video Editor 
Filmora Video Editor is a professional video maker, which help you to make any types of videos or movies like music videos. It is also a useful video color corrector, which helps you correct color, adjust brightness, contrast, saturation and more on your videos with few clicks. 
#DaVinci Resolve 
DaVinci Resolve can also be used as color correction software. Its Color tab provides a variety of tools like color match, color wheels, curves, and windows. If you're just getting started, this will be a great program to show you how color correction changes images or frames. 
#ApowerEdit 
ApowerEdit comes with a built-in color correction tool that can be used to change the video color. You can adjust the contrast, saturation, brightness and hue of the video to any degree. Moreover, you can adjust the colors of your videos by adding overlays and filters. 
#Lightworks 
As a professional video editor, Lightworks is also an easy-to-use color correction software. This color corrector can tweak every angle of the and it has an assured ability of tuning titles to set exact pixels for orientations, customize shadows and look after several other aspects. 
Color Correction vs Color Grading
The terms Color Correction and Color Grading are often used interchangeably. However, they refer to different processes of editing color in videos.  
Color Correction is usually done first. This is because raw footage tends to be over-saturated and the colors need to be balanced out.  
Include: 
Exposure

 

White Balance

 

ISO Noise

 
Color Grading is the next step, aiming to create the actual aesthetic of videos. 
Include: 
Shot Matching

 

Removing Objects

 

Shape Masks

 

Cinematic Looks (day-to-night, underwater, flashbacks, etc…)

 
With the help of this post, color correction of videos is just a piece of cake, right?